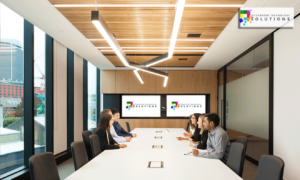 No matter the size or function of your company, automation can help you improve your conference room effectiveness while providing top-quality video delivered in a safe, comfortable, environmentally friendly environment for your employees and visitors. While sharing information, viewing AV content, and communicating with others near and far are often the purposes of having dedicated meeting rooms in businesses of all types, having an optimum experience depends on more than having available space.
Technology from Integrated Technology Solutions can provide the basic climate and lighting control, audio visual, and networking capabilities that most businesses need in their conference rooms while zeroing in on the specialized applications you require.
Automating Building Functions
Whether you want automation for your whole organization or just need to control the environment in the conference room, we have integrated systems for you that coordinate the functions you need. We offer systems to control your whole building or just a room:
• Smart Building Automation for freestanding buildings such as professional offices and bars and restaurants that occupy the whole space.
• Smart Building Technology for hotels, hospitality facilities, or hospitals that have many different activities occurring simultaneously
• Integrated Building Technology for classrooms and auditoriums in buildings where functionality may be need throughout the facility
• Integrated Room Control for boardrooms and conference rooms that require special capabilities to regulate lights, AV equipment, and teleconferencing and networking
With automated systems, you can regulate temperature and turn lights off and on at desired times, operate audio visual systems to keep music playing in elevators, activate alarms, and monitor activity through your building and grounds from a central hub. Hotels and hospitals, recreation centers, and medical offices with pools for recreation or therapy can keep the water temperature at a desirable level and keep the water clean via timers.
A/V Capabilities
Whether you need the sound and presentation capabilities most often associated with conference rooms in one location or many, we offer a range of simple and complex systems.
Some of the components of a commercial A/V system might include:
• Speakerphone for voice calls
• IP and wired phone system facilitate to corporate communications for local and national meetings and conferences
• Meeting software that participants can access via a web browser or USB drive on a laptop, tablet, or smart phone
• Structured cabling to facilitate transmission of voice, video, and data
• Tabletop or wall-mounted touchscreen interface
• Conference cameras
• State -of-the-art acoustics and integrated presentation systems.
• Sound Masking Technology
• MultiTouch video wall system
• Microphone Systems
• Microprocessor
• Presentation Gateways
• Giant White Boards
Multiple Solutions Appropriate For Your Business
The beauty of working with Integrated Technology Solutions of Houston is that our team will work with your organization to find the right conference room technology for your business.
Your small business office, hotels, or medical/ dental practices might just require projection equipment and whiteboards for meetings, while larger corporations with more sophisticated boardrooms, restaurants that feature screens for customer entertainment, and educational institutions and training facilities demand commercial audio/ visual systems. Our systems are designed to be right for your current needs and expandable for the future.
If you are ready to upgrade your conference room and explore the possibilities of automated controls, call Integrated Technology Solutions at (281) 809-9912. For an evaluation of your needs contact us on our website.