Creative AV Services For The Military
For military applications, audiovisual technology is an important part of everything from training to relaying orders from a command center to the front lines.
Military applications that rely on high-quality audiovisual services and data transmission are often mission-critical. Every component of the total operation must operate flawlessly to ensure success.
To prepare for enemy engagement, real-time command and control operations require high quality video and Internet capabilities.
Coordinating voice and data transmission between locations is essential for keeping all parties up to speed.
State-of-the-art cabling enables sophisticated analysis of mission-critical data.
Large screen projection systems with excellent sound, lighting, and AV quality are invaluable assets for sharing presentations and podcasts among remote locations to standardize training and briefing.
Security systems protect military bases and military installations.
Complete Sound, Video, And Lighting Services For Government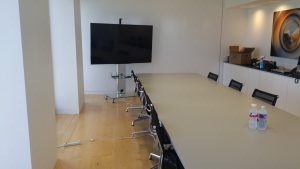 Integrated Technology Solutions Include:
Advanced Audio Visual Products
Video Conference / Teleconferencing
Digital Signage / Large Format Displays
MultiTouch Video Wall Systems
Managed Services
AV Design & Installation
Audio Visual Systems Integration
Custom Programming
Maintenance and Repair
Specializing In Custom Designs For Government
Integrated Technology Solutions designs and installs equipment and provides routine maintenance to assist government agencies. When you need custom solutions that will provide budget friendly, state-of-the-art cabling and audiovisual products, call (281) 254-5087 or contact us on our website.