National Fiber Optic Cabling
With our core competency in the fiber optic field Integrated Technology Solutions specializes in all aspects of fiber optic splicing, testing, termination, troubleshooting and network certifications.
Based on the principle of total internal reflection, information quickly moves through a fiber optic line in the form of equivalently coded light pulses. To realize the benefits of this type of cabling without compromising the delicate fibers, fiber optic cabling must be installed by an experienced company such as Integrated Technology Solutions which has more than 30 years in the business of installing network, communications, audiovisual, or data networking cabling.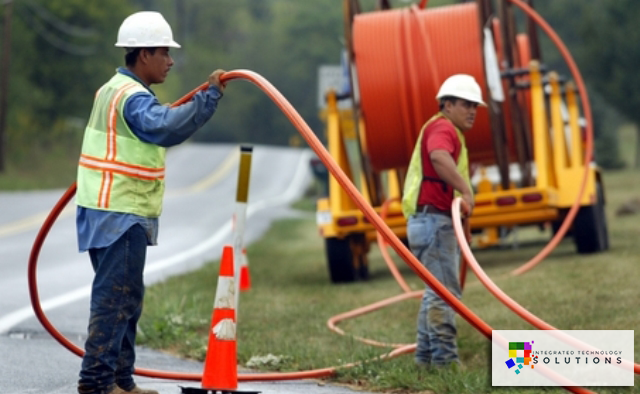 Integrated Technology Solutions handles all aspects of fiber optic cabling installation including:
Outside Plant Services
Single Mode & Multimode Fiber
Pre-terminated Fiber Solutions
Splicing and Testing Services
Trenching / Boring
Fiber Runner and Raceway
Fiber Jumpers
Head-End, POP, Gateway
Terminating
Traffic Sensitive Services
OSP Construction
ISP Construction
Emergency Restoration
Before installing, we submit a through design plan that considers the architecture of the building and your needs. Older buildings present challenges when installing new fiber optics cable, but we are experts at getting around HVAC and plumbing lines and hiding the cabling under carpets or false ceilings.