Audio Visual for Airports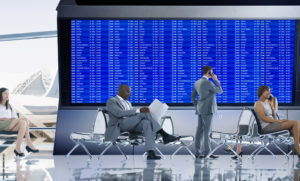 Whether you manage a small private airstrip, a large commercial airport, or a military airfield, having up-to-date communications and audiovisual systems is crucial for crew and passenger safety, security, and convenience. Integrated Technology Solutions, based in Houston, Texas, is ready to work with airport personnel anywhere to incorporate the latest technology to make your facility an industry leader. The sky's the limit for what we can do!
Audio Visual For Airports
Screens are everywhere in modern airports, so having a well-designed AV system is important to keep the facility running and share updated flight information. Applications that required high quality video might include:
Screens for on-site ticketing agents who check in passengers, checked baggage, change flights, and more
Touchscreen technology for passenger ticketing and check in
Large format display screens for passenger information, incoming and outgoing flight, and information, advertisement, and promotion.
Vendors in the airport concourse who use terminals for their point-of-sale systems
Conference room AV for corporate use
In airports clear, high quality sound systems are also essential to airport operations. Possible applications might include:
Flight Announcement Systems to accompany Flight Information Delay Systems to provide flight information in multiple languages
Overhead speaker systems that provide information to passengers and mask ambient sound in a busy terminal
Digital paging stations that allow employees access to PA systems to provide information about gates and 40
Entertainment systems that playback music in terminals, elevators, and in part, restaurants, in conference rooms
Integrated audio and video systems are digital and transmit over your data network to meet your internal needs.
Other Airport Solutions
Experts in design, installation, and management, Integrated Technology Solutions can also provide the cabling that enables A/V systems, airport security systems, air traffic control systems, weather monitoring, and specialized airport management systems. We work with private companies, municipalities, and larger government entities on long-term and short-term projects. As your airport technology needs expand, we can handle the job.
The Integrated Technology Solutions Advantage
Integrated Technology Solutions Include:
Advanced Audio Visual Products
Video Conference / Teleconferencing
Digital Signage / Large Format Displays
MultiTouch Video Wall Systems
Managed Services
AV Design & Installation
Audio Visual Systems Integration
Custom Programming
Maintenance and Repair
Specializing In Custom Designs For Airports
No matter what your audiovisual, cabling, and security concerns are for your airport, Integrated Technology Solutions can assist you in planning and executing a system to meet your needs and budget. For information, call us at (218) 254-5087 or fill out a form on our website.