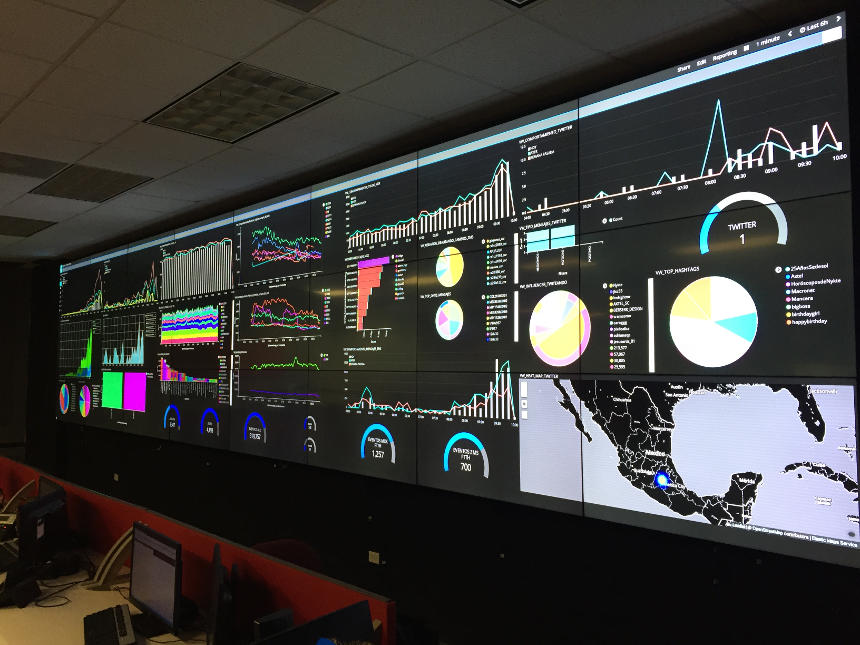 Since video walls enable information created on a user monitor or other sources to appear on a distant life-size screen, this technology is useful in applications such as military and defense.
Displaying information to a team is critical when training, data sharing, planning, and strategizing. These activities often take place in a command or operations center. A team member can display information from an individual screen to a video wall with a swipe of their finger.
Military and defense centers might use video wall technology in
Space and missile launching facilities
Civil defense command centers
Aerospace and maritime monitoring headquarters
War rooms
Intelligence operations
Aircraft training and flight simulation facilities
Weather monitoring stations
Briefing centers
Border patrol stations
And more
Components Of A Video Wall System
A video wall is part of a turn-key visualization systems, that includes not just video walls, but controllers, video wall software, and more. The wall itself is often comprised of a series of stackable HD cubes or flat panels that might be powered by LEDs or LCDs. The system is scalable so that the display can grow as needed. Depending on the content, information may display across individual or multiple cubes and can be maximized, minimized, or hidden with a swipe.
While the demands of individual command centers vary, the capability to broadcast information seamlessly on a video wall is a universal requirement. When a map of the terrain or weather system spans several screens, no data can be lost where individual screens come together. As a results screens are either LED which has no border or LCD which come in ultra-slim bezel styles with minimal spacing between panels.
Visualization systems increasingly employ transparent screens, which replaces white pixels in the display with transparent ones so that viewers can see through them to content below. Transparent OLED (T-OLED) technology allows viewers to both see what is on the screen and what is behind it – a useful property when superimposing images on a larger field to present alternative scenarios or courses of action.
In addition to properties that assure near-seamlessness and transparency, video wall systems for defense must include:
Ultra-high brightness to ensure optimum contrast ratios, regardless of ambient light
24/7 reliability to enable round-the-clock readiness
High-speed video trunks to display ultra-high-resolution content (Display Port, DVI, HDMI) that appears quickly, smoothly, and clearly
Easy access to power supply and electronics for quick repair, resulting in less downtime and noise
Slim form factor for maximum resolution in minimum space
Interactive touch and ruggedized glass so that multiple users can collaborate and interact with displays simultaneously, while encouraging high individual and group productivity
Flexible mounting options to fit your circumstances, whether you need a wall-mounted, free-standing, curved, or other configurations
The resulting LCD system allows for maximum efficiency, functionality, and user satisfaction, wile presenting information clearly to administrators, trainees, and visitors who often visit the command center.
Integrated Technology Solutions Offers LED Video Walls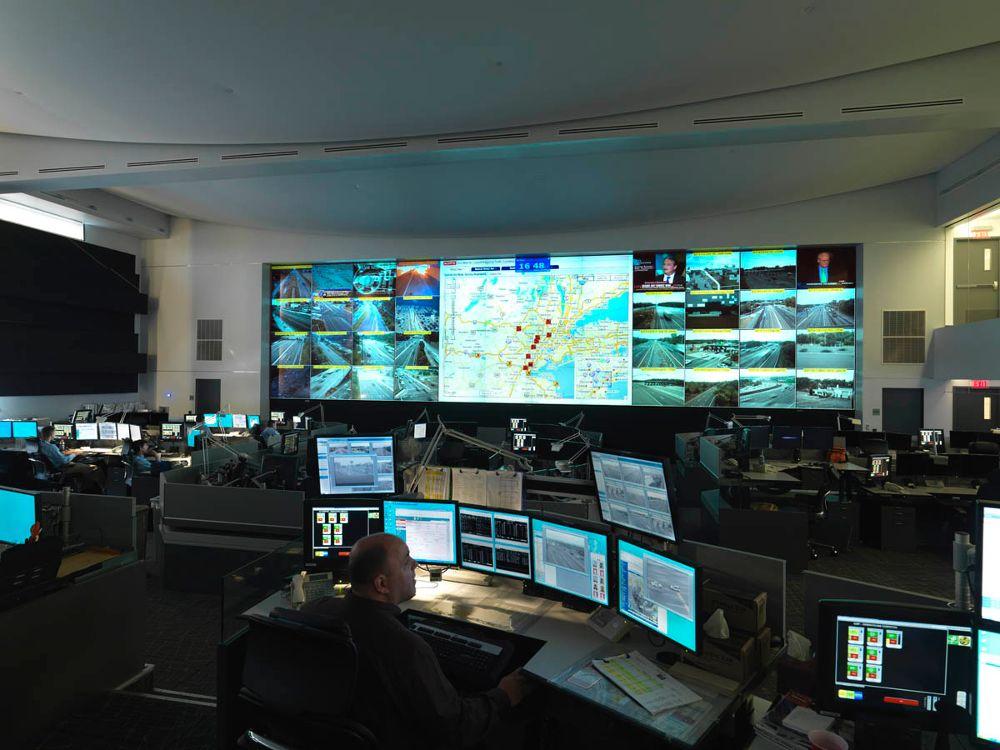 When you need a top-performing visualization system to meet the needs of the military and defense industries, Integrated Technology Solutions of Houston will consult with you about your specific needs and then design and install a user-friendly video wall scaled to your strict requirements We can recommend the best technology in screens, software, and controllers to ensure the long-lasting performance and trouble-free service, For information about new video walls or system upgrades, call us at (281) 942-4121 or visit our website.
Contact Us