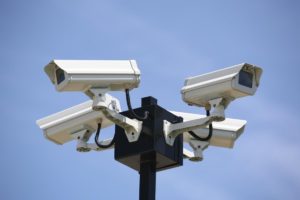 Protecting your business inside and out requires more than a security service such as ADT, which alerts a monitoring center if the door sensors and motion sensors at your building detect a break in and set off an alarm. Modern surveillance systems utilize cameras that either monitor the scene in real time or record footage and will alert you if motion is picked up. By reviewing the footage, you can determine what happened and potentially even identify the intruders. Integrated Technology Systems can assess your business needs to provide you with cameras and surveillance systems that will keep you safe.
Data recording is essential for capturing security breaches. The way to accurately capture what is happening at your business is have a recording system that operates with cameras, a network, and a series of TV/monitors or digital IP cameras that transmit video via a computer network or to the cloud.
When planning a video surveillance system for your business, you must be clear in your goals. Do you need to protect your building from break ins? Ensure parking lot security? Prevent employee or customer theft? Improve safety and security in storage areas, warehouses, or the loading dock? When you are clear on the answer to these questions, where should you place cameras to capture intrusions? What type of cameras will best provide the information you want, and where should these be placed for best results?
What Type Of Camera Do You Need?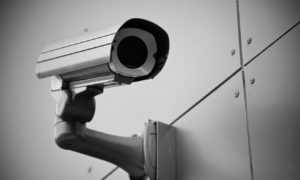 The core of most surveillance systems are fixed cameras that are often used in multiples to protect specific areas of your business. These cameras are usually unmanned as they capture information that can be viewed on monitors or computer screens by authorized personnel.
If you need abilities such as of remote directional and zoom control, you can use pan–tilt–zoom camera (PTZ camera), also called a robotic camera or robot, which are controlled via the internet or with a smart phone. Also frequently used in multiples, PTZ cameras can respond to a preset alarm to utilize their pan, tilt, or zoom features when motion is detected, or a sensor goes off.
Depending on your needs, you might need a specialized camera, such as:
360 and panoramic cameras that permits a more thorough view of an area
Fisheye lenses with ultra-wide-angle lens for creating wide panoramic or hemispherical images
Thermal imaging cameras that sense heat and night vision cameras that work in low light
Explosive and waterproof cameras and housing for dangerous or underwater surveillance
Should You Choose A CCTV or IP System?
Many businesses benefit from CCTV (Closed Caption TV) that allows live viewing of information the camera records on monitors, a system that is reliable, less expensive, easy to use, and offers low maintenance. Many banks, retail stores, and commercial buildings, as well public areas under the watch of law enforcement professionals, use versions of these camera to broadcast to an internal network that outside receivers cannot pick up. Someone watching the CCTV might discern trouble as it is happening or see it later.
Many facilities now use Internet Protocol or IP-based security cameras that function as digital video cameras. The downside for many businesses is that they are time-consuming to set up in way that does not make them fair game for cybercriminals. IP cameras are more expensive to buy and maintain as they require network maintenance, dedicated IP addresses, and a built-in network server. However, these cameras can be connected with additional video systems, while offering better quality video and advanced recording features. They recordings can be viewed on a computer monitor or TV. If you need the features offered by the specialized cameras mentioned above, your company requires an IP-based system.
Calling In The Pros At Integrated Technology Solutions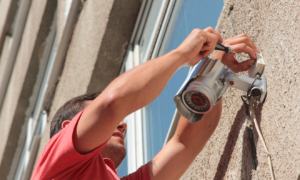 Setting up the security system you need is best accomplished by working with Integrated Technology Solutions, a Houston based firm that offers an exciting video surveillance and CCTV solutions to protect the inside and outside of your building. While some security solutions can be researched and installed by your IT department, more advanced solutions, especially those that involve IP or cloud technology, are best left to professionals.
At ITS of Houston, we provide a free consultation to discuss your security concerns and then design a state-of-the-art surveillance camera system to meet your needs that uses the right equipment placed where you need it to properly protect your property. Call us today at 281 336 9974 to get the process started in greater Houston, League City, Galveston, Katy, The Woodlands, Spring, Atascosita, Baytown, Pasadena, and Pearland, call us at (281) 254-5087.
Contact Us