Video walls are an excellent format for presenting content larger than life for increased impact. Often relying on many input sources, the walls are comprised of LED or LCD panels. For maximum impact, the wall should be seamless, an effect best created with LED technology.
While LCD or liquid crystal displays rely on a series of tiles that are scalable, the bezels between the panels or cubes are distracting as they break up the content. Modern LCD components feature slim bezels, but still present visual interference that can be eliminated by a seamless LED display.
LED walls are often used in markets such as:
Education
Trade Shows
Sports
Rental and Staging
Broadcast TV
First used for outdoor advertising or at sports or concerts to create a close up of the action, the original video wall was the Jumbotron, a large format, lower resolution television. When first pioneered by Sony in the 1980's, only green LEDs were available, so CRTs cathode ray tubes will used to create the red, blue, and green needed for an RGB display of colors. LED systems now dominate the sortsrmarket. The biggest Jumbotron in the world was the (33 ft × 110 ft) SkyDome (now Rogers Centre) in Toronto, Ontario. Most earlier technology has been replaced by LEDs in the outdoor advertising and other markets.
LED Technology Offers Dazzling Advantages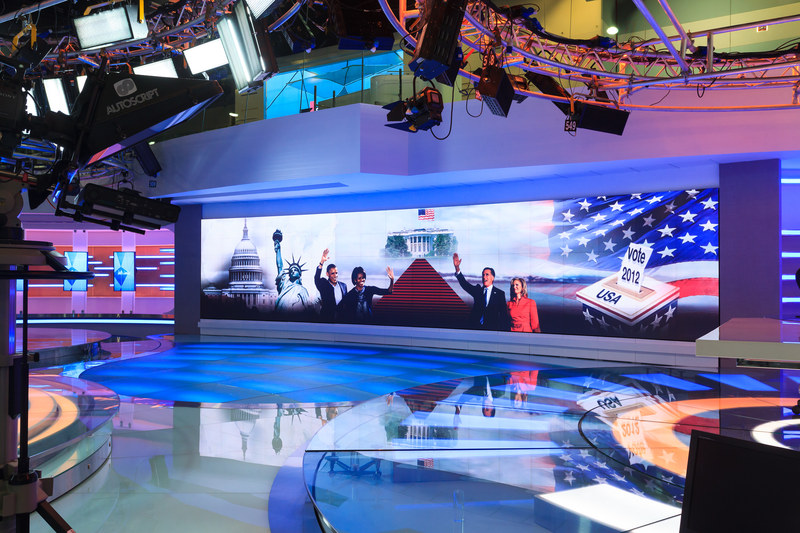 Both LED and LCD displays require a light source that projects content onto the screen. LCD technology sandwiches crystals between two pieces of glass that are lit from behind since the crystals do not produce their own light. In contrast, LED systems do so, which eliminates the need for hardware such as tiled walls of LCD TVs, proprietary rear projection systems, or outdated Jumbotron technology. RBG LED diodes are directly mounted onto circuit boards (SMD), which minimizes the space required for complex wiring.
Many markets that use visualization systems may use LCD (liquid crystal display) in contrast to the more costly LED (light emitting diode) technology.However, there are many advantagesto LED systemsthat benefit viewers, as well as system owners:
Brightnessfar greater than projection, especially in outdoor daylight conditions
Superior black levels than most LCD displays
Dazzling color uniformity
Unbroken viewing surface
Equal or superiorvisibility from multiple viewing angles
Comparablepower consumption to LCD units
Extremely large sizes available as LED tiled systems have limitations on how high they can be daisy-chained into formations
Better serviceability as modules and components are easier to replace than entire panels or displays
Longer lifetime of more than 100,000 hours (11.5 years).
Cableless connectivity
Better curving ability due to the modularity and panel size
Integrated Technology Solutions Offers LED Video Walls
When you need a seamless visualization system for a flawless, unbroken presentation, Integrated Technology Solutions of Houston will consult with you about your specific needs and then design and install a user-friendly LED video wall scaled to your strict requirements We can recommend the best technology in screens, software, and controllers to ensure the long-lasting performance and trouble-free service, For information about new video walls or system upgrades, call us at (281) 942-4121 or visit our website.